As many of you are keeping track of, Alyssa was born on November 16.  Today is December 16, which makes her 1 month old today.  To be exact, she is 4 weeks and 2 days old... I can't believe it's only been a month.  In so many ways, it seems like so much longer.
She has definitely had a hard day.  It started out posing for pictures in which, you can see from the photo where she's propping her head up, she got a little borded...  Then, she had to get ready for the big game so on goes the Cowboy's outfit.  She got up in Daddy's chair to claim her spot, but not realizing the game wasn't for a few hours, she entertained herself in the bouncer for a while before taking a nap.
Then, like most big events, she needed to have another outfit change to pose for more pictures!!  The game still hasn't started yet and she's taking another nap with the hopes of being able to watch the Cowboys kick those Eagle tushes.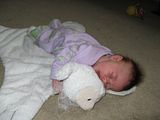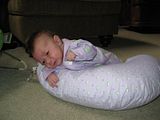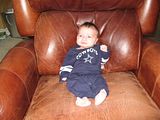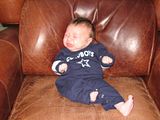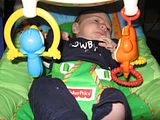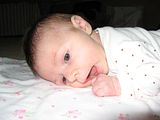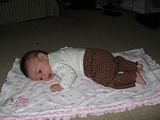 She's getting SOOOO big!!